Welcome to the Friends of Hungry Mother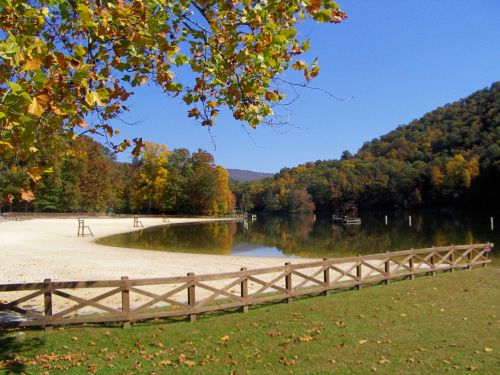 NOTICE! See the November 2010 Between Friends Newsletter HERE!
br>
ALSO, see the newsletter from our new Park Manager, Scott Bowen HERE!
Located in the beautiful Appalachian Mountains, Hungry Mother is one of the premier tourist attractions in Southwestern Virginia.
Long a family favorite and known for its beautiful woodlands and placid 108-acre lake in the heart of the mountains, Hungry Mother features a sandy beach with bathhouse, boats (fishing, canoe, kayak, and paddle) and boat launch, universally accessible fishing pier, campgrounds, cabins, gift shops, visitor center, six-bedroom guest lodge that sleeps 15, hiking and biking trails and a fantastic restaurant.
Hungry Mother also is home to the famous Hemlock Haven Conference Center, available for retreats, conferences and special events. Catering is also available.
---
The Legend Behind the Name
The legend of Hungry Mother takes many forms, but the one generally accepted in Southwest Virginia has earmarks of the truth. Legend has it that when Indians raided several settlements along the New River, south of what is now the Park, Molly Marley and her small child were among the survivors taken to the raiders' camp. Molly and her child eventually escaped, wandering through the wilderness eating berries. Molly finally collapsed, and her child wandered down the creek until she found help. The only words the child could utter were "Hungry Mother." When the search party arrived at the foot of the mountain where she had collapsed, they found Molly dead. Today that mountain is Molly's Knob, and the stream Hungry Mother Creek. When the park was developed in the 1930's, the creek was dammed to form Hungry Mother Lake.
Our Mission
The Mission of the Friends of Hungry Mother State Park is to identify and promote activities which conserve and enhance the recreational, cultural, historical, and natural resources of the park and the adjoining highways and byways.
A Brief History
In the fall of 1998, a group of concerned citizens organized with the purpose of taking action to protect and preserve the beauty of Park Boulevard.
Because Park Boulevard is the entrance to the park, it was a natural expansion to also preserve and protect the natural habitat of the land inside the park boundaries.
The Members of "Friends" strive to continually to improve and expand these conservation efforts.